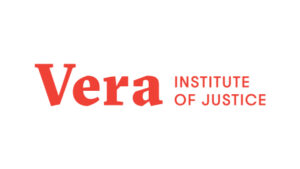 Vera Institute of Justice
Grants Awarded
Unrestricted Funding
Founded in 1961 to advocate for alternatives to money bail in NYC, the Vera Institute of Justice (Vera) is a national organization committed to transforming every element of America's criminal legal and immigration systems until they are fair for all. Its current priorities include closing Rikers Island; improving prison conditions, especially for young adults; addressing jail populations in rural areas; reducing immigrant detention and producing research and narrative change communications to help the reform field. This grant provides general operating support to Vera as it continues to expand its impact and achieve its goals. 
Shifting the Narrative on Crime in NY
The Vera Institute of Justice (Vera) was founded in 1961 by a philanthropist and a magazine editor to fight the injustices of the money bail system in NYC and to close the Rikers Island jails. It is a premier national organization committed to transforming every element of America's justice systems, from policing and prosecution to bail and pretrial detention, and addressing prison conditions, reentry and immigration detention through a racial equity and public health perspective. This grant provides support for Vera's Greater Justice NY team as it produces and disseminates research to drive local and statewide efforts to shrink the footprint of NYS' criminal legal system.
Justice and Public Housing Project
To share research and transform restrictive policies held by many public housing authorities across the U.S. to improve housing access for people with criminal convictions.  Vera will share evidence of successful pilot projects in NYC and New Orleans at a national convening designed to lift up best practices and inspire more housing authorities to support reentry.  It will disseminate a guide on how to replicate models that have demonstrated successful outcomes related to housing stability, homelessness, family self-sufficiency and recidivism reduction.  Vera seeks to drive change in public housing authority practices by providing technical assistance to several that are interested in implementing similar programs.
Staffing of New York's Commission on Youth, Public Safety & Justice
To plan and organize commission meetings, provide staff support, conduct cost/benefit analysis and research, and model systemic and legislative changes necessary to raise the age of criminal responsibility in New York that will be presented as a package for consideration by the NY state legislature in its 2015 session.