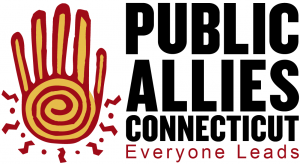 We're back with another edition of Changemakers, a new online series dedicated to vision, innovation and impact. This week's profile is on Public Allies Connecticut, an organization committed to developing the next generation of nonprofit leaders.
Public Allies Connecticut…
Envisions a just and equitable society with diverse leadership to sustain it.
Because it believes everyone deserve the opportunity to activate their full leadership potential.
To get there, it recruits and trains young leaders whose potential is often overlooked, including those who are aging out of the foster care system, recently released from incarceration, and single mothers seeking a bridge from GED to college and career.
Its major innovation is its AmeriCorps program, where diverse cohorts of young adults receive full-time, paid apprenticeships in nonprofits along with intensive skills and leadership training, active community-building projects, personalized coaching and critical reflection.
To read about the work of Public Allies Connecticut, visit:
For more on our partnership with Public Allies Connecticut, visit: