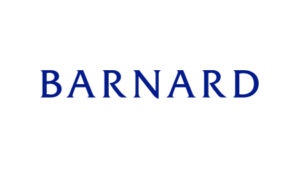 Barnard College
Grants Awarded
Tow Family Professorships and Outstanding Pedagogy Awards
Reflecting both Barnard's and the Foundation's belief in bolstering academic excellence by investing in great educators, this funding supports the endowment 10 Claire Tow professorships as well as The Tow Family Award for Innovative and Outstanding Pedagogy.
Claire Tow Professors are faculty members who have made substantial, nationally recognized contributions to their field. This honor includes a two-year monetary award to be used as a stipend and for research and professional development which can include related expenses for travel and attendance at professional conferences. Two new recipients are selected each year.
The Tow Family Award for Innovative and Outstanding Pedagogy seeks to recognize exemplary members of the Barnard faculty who combine scholarship and pedagogy in creative ways, maximizing the impact of both. The award is given in the form of a flexible research/professional development fund that can be spent over 5 years to further innovative pedagogies. Awardees may use the funds for travel, to attend professional conferences, to secure a course release to learn a new skill or technology, or other related purpose. Special consideration is given to innovative use of teaching technologies, including new media, to extend both the classroom environment and research findings across a broader community of scholars and students.
Tow Research Fellowships & Public Service Internship Program
The fellowship program supports stipends for approximately 30 undergraduate students annually to earn valuable experience serving as interns with substantive nonprofit and public service organizations. Past students have interned at a wide range of health, education, arts, human rights, research, advocacy, environmental, media, philanthropic, housing and economic aid organizations. Many choose to pursue graduate degrees and future careers in public service.
The internship program supports travel study awards to approximately 10 undergraduate students annually for domestic or foreign travel to conduct first-hand research on the topic of their senior theses. Past students have traveled all over the world to conduct intensive research in such areas as anthropology, architecture, environmental science, history, musicology and religion. In addition to enriching their senior theses with this information, several students have made significant and original contributions to their academic disciplines and had their research published.
The Bold Standard: The Campaign for Barnard
This campaign, the largest in Barnard's history, provides a 21st-century blueprint for Barnard's commitment to institutional and academic excellence through bricks and mortar improvements and investments in student and faculty support.  A new Teaching and Learning Center will be the centerpiece and hub of the campus, housing a state-of-the-art library and digital commons, computational science center, and faculty offices.