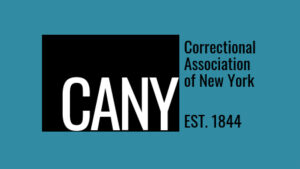 Correctional Association of New York
Grants Awarded
Unrestricted Funding
For 175 years, the Correctional Association of New York (CANY) has played a role in shaping and securing major criminal justice reform in New York State. It is one of only three organizations nationally with the legal authority to inspect prisons and confidentially communicate with incarcerated people about their experiences. In December 2020, New York passed landmark legislation that expands CANY's statutory authority to monitor facilities. Through its increased oversight power, CANY seeks to promote transparency and accountability by the state corrections authority, safeguard the human and civil rights of incarcerated people, eliminate harmful practices and policies and decrease the use of incarceration in NY. This funding will support CANY in its mission and work.
Juvenile Justice Project
To support advocacy efforts to improve the juvenile justice system in New York State by promoting diversion of youth from the adult criminal system and increasing community-based services to treat youth in their home communities. This project seeks to transform New York's juvenile justice system from a punitive model into one grounded in positive youth development principles, to raise the age of criminal responsibility from 16 to 18, and to ensure that children are no longer housed in adult jails and prisons. The Correctional Association manages a statewide juvenile justice coalition and works collaboratively with other local, state-based, and national advocates to promote a coordinated reform message. A coordinator was hired to lead this project.