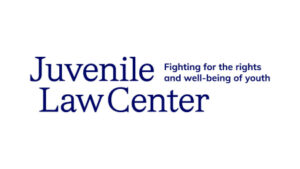 Juvenile Law Center
Grants Awarded
Unrestricted Funding
This funding provides general operating support for Juvenile Law Center (JLC), the first nonprofit, public interest law firm for children in the United States. JLC's mission is to advocate for rights, dignity and opportunity for youth in the child welfare and juvenile justice systems. As part of its work, JLC partnered with researchers to integrate adolescent brain development science into its advocacy efforts. This argument is today one of the strongest and most influential in advocating for youth justice system and policy reform. Similarly, JLC works to ensure that laws and policies advance racial and economic equity, are rooted in research, are consistent with children's unique developmental traits and reflect international human rights values. To do so, it uses impact litigation, appellate advocacy and amicus briefs, policy reform, education and training, professional consulting, youth advocacy programming and strategic communications.
Juvenile Life Without Parole Advocacy Project
To support advocacy and litigation that builds on recent success in limiting juvenile life without parole sentences. This grant enables the JLC to frame legal arguments for the field that will support new Eighth Amendment challenges to life without parole or extremely long sentences in felony murder and murder cases and transfers to the adult criminal system. JLC seeks to ensure that the criminal justice system is aligned with principles of adolescent development, honors human rights, and gives youth access to education, physical and behavioral health care and other supports they need to become productive adults.
Juvenile Sentencing Reform Project
To provide legal representation of inmates sentenced to life without parole for crimes committed as juveniles at their resentencing hearings as a result of recent U.S. Supreme Court decisions and to train and provide technical assistance to the national criminal defense bar to represent these lifers and any new juvenile life without parole cases. JLC is working with national advocacy partners to fight against state legislative action to impose long (virtual life) sentences on juveniles after the court banned mandatory life without parole and to advance a criminal justice system in which lawyers understand adolescent development and mitigating factors in life without parole cases and the judiciary understands how teens are different and sentence accordingly. This grant also supports efforts to create a common communications strategy around the life without parole issue.