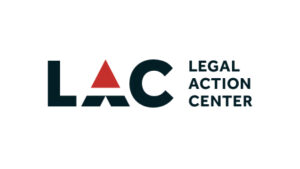 Legal Action Center of the City of New York
Grants Awarded
Expanding Opportunities for System-Involved New Yorkers
The Legal Action Center of the City of New York (LAC)'s mission is to fight discrimination and advocate on behalf of those with histories of addiction, HIV/AIDS or justice system involvement. To accomplish these goals, LAC meets with key policymakers and regulators, creates educational materials, holds listening sessions, collaborates with community-based and legal defender organizations, conducts polling, creates op-eds and opinion pieces and collects stories from the directly impacted to support communications efforts. This grant will support LAC's efforts to remove the consequences of a criminal record, expand health care for the justice population and increase support for those returning home from jail or prison.
NY ATI/Reentry Advocacy Project
To provide support for the LAC's mission of fighting discrimination against and advocating on behalf of those with histories of addiction, HIV/AIDS and involvement with the justice system. LAC advocates at local and state levels for the expansion of alternatives to incarceration and the removal of barriers to employment, education, healthcare and housing for formerly incarcerated individuals. LAC is also involved with several justice-focused coalitions and partnerships to broaden its impact, and conducts direct outreach to educate those with criminal records about their rights.